Calling all Super Parents! 🎉 Get ready to brew some fantastic conversations at our upcoming Superintendent for Community Coffee Hour ☕🍩 on October 6th from 8:30 AM to 9:30 AM! You bring the questions, we'll bring the coffee and donuts! 🍩🤤 It's your chance to sip, snack, and share your thoughts with our Superintendent in a casual, friendly setting. We want to hear all about your hopes, dreams, and concerns for our school community. So, mark your calendars, set your alarms, and join us for a morning of caffeinated camaraderie. Let's pour over some hot topics and sprinkle in some sugary ideas! ☕🗣️ We can't wait to see you there! Together, we can brew up a brighter future for our students. 🌟📚✨

The Mobile Dentist will be at Burnham School on October 23rd. Please return Mobile Dentist forms by October 6th

During the month of October, Burnham School will be supporting the Franciscan Health Comprehensive Cancer Institute by selling extra dress down passes. These passes can be used any time during the month of October. (dress down rules apply) Passes will be sold for $2 each with a limit of 5 sold to each student. Please send $ in an envelope with your child's name on it. Passes will be issued by the teacher and must be returned each day the student dresses down. Passes are on sale now!!!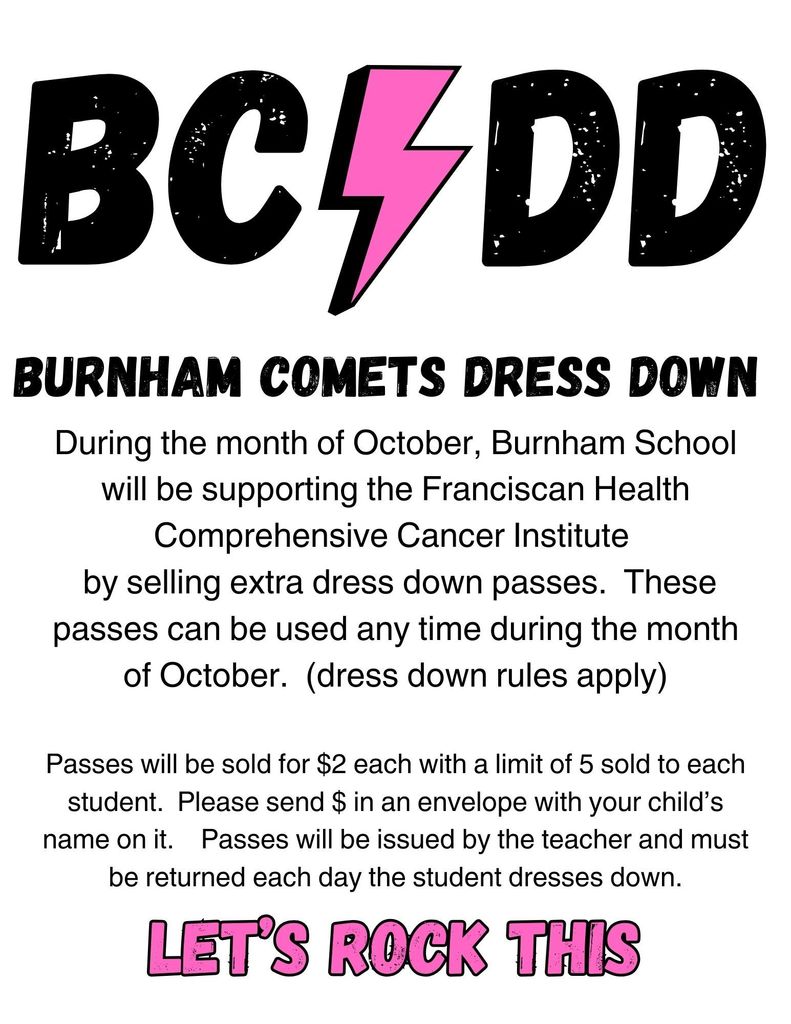 Great turn out for our first PTO meeting!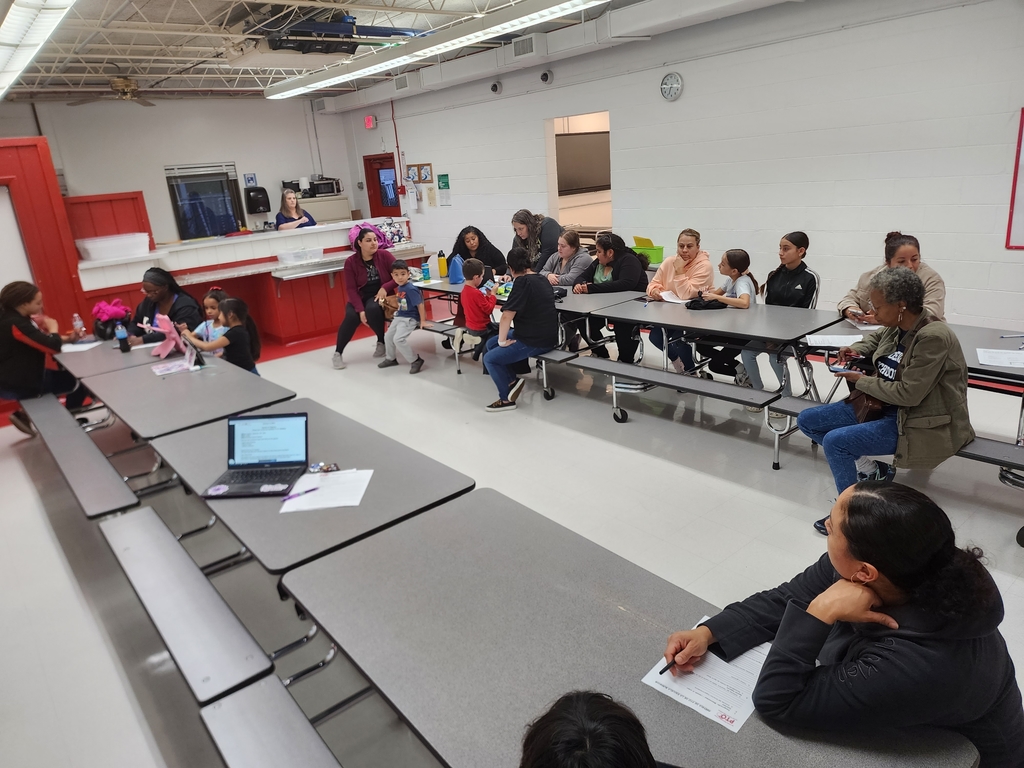 Hope you can join us for the first P.T.O. meeting of the year on Tuesday, September 19th at 6:30 pm.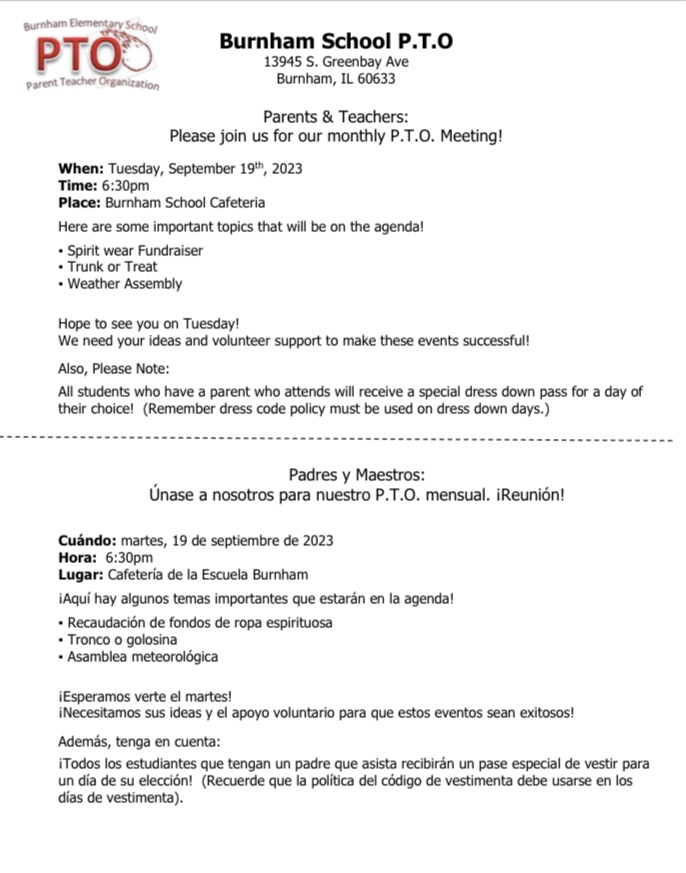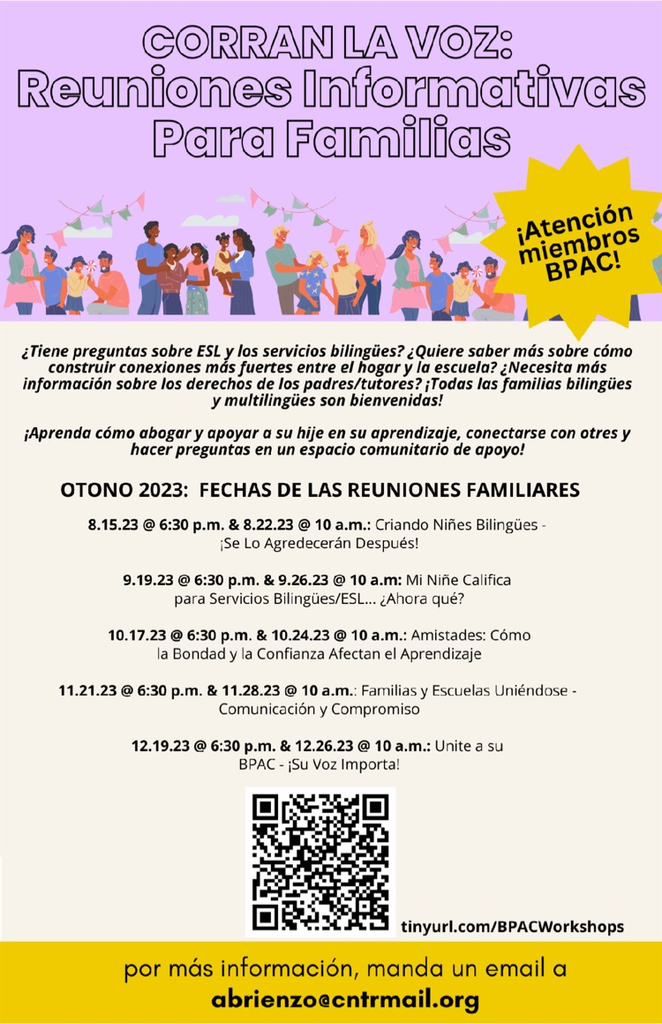 ATTENDANCE MATTERS Strong attendance has a proven impact on school success. Chronic absence — missing 10 percent or more of school days due to absence for any reason—excused, unexcused absences and suspensions, can translate into third-graders unable to master reading, sixth-graders failing subjects and ninth-graders dropping out of high school. Burnham School encourages parents to ensure that children attend school every day in order to achieve academic success!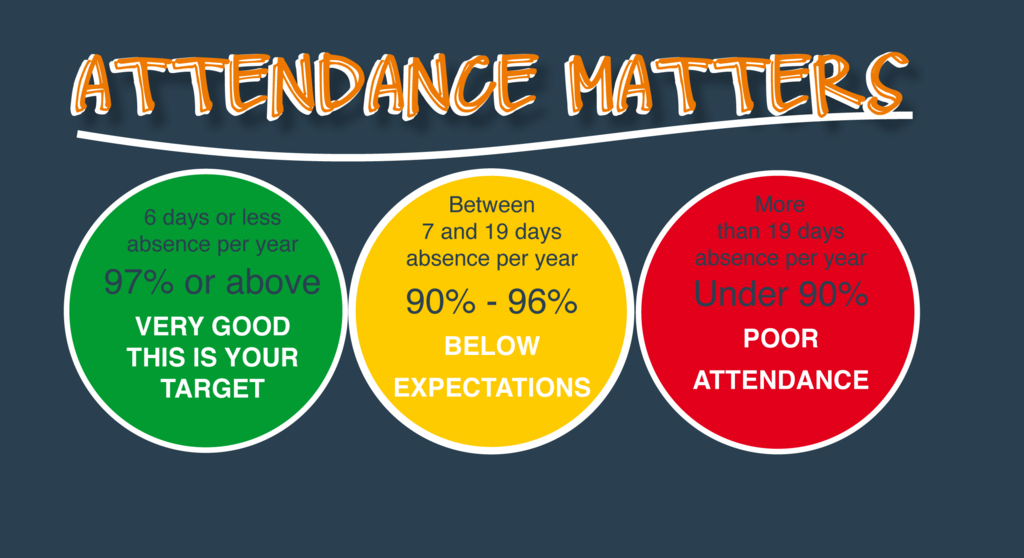 Red, White and Blue & Kindergarten too! ❤️🤍💙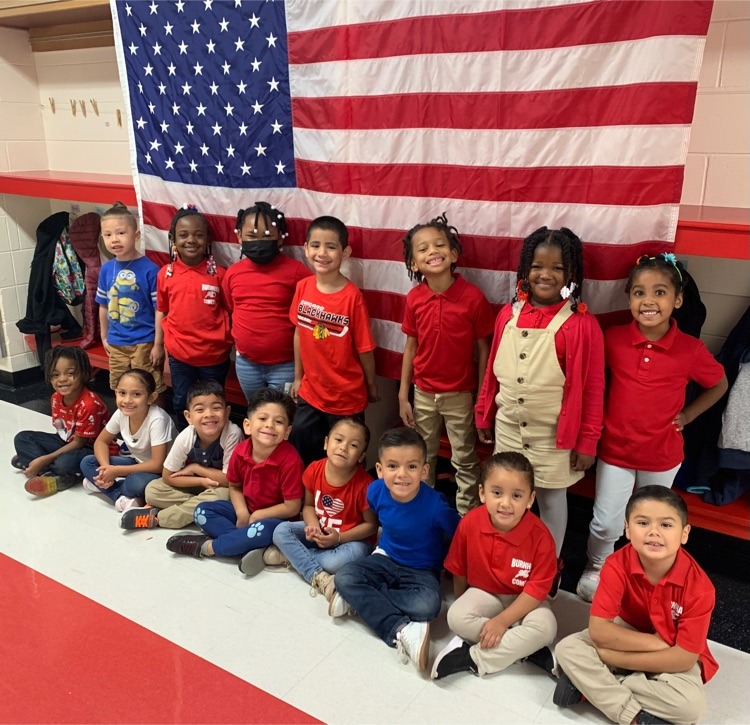 On September 11, Patriot Day gives all of us time to reflect on the devastating terror attacks that took nearly 3,000 lives. We commemorate those who we lost and give thanks to the brave first responders who put their lives on the line. Take a moment today to consider what we stand for as a nation and how we can work together to make the world a better place for all. God Bless America!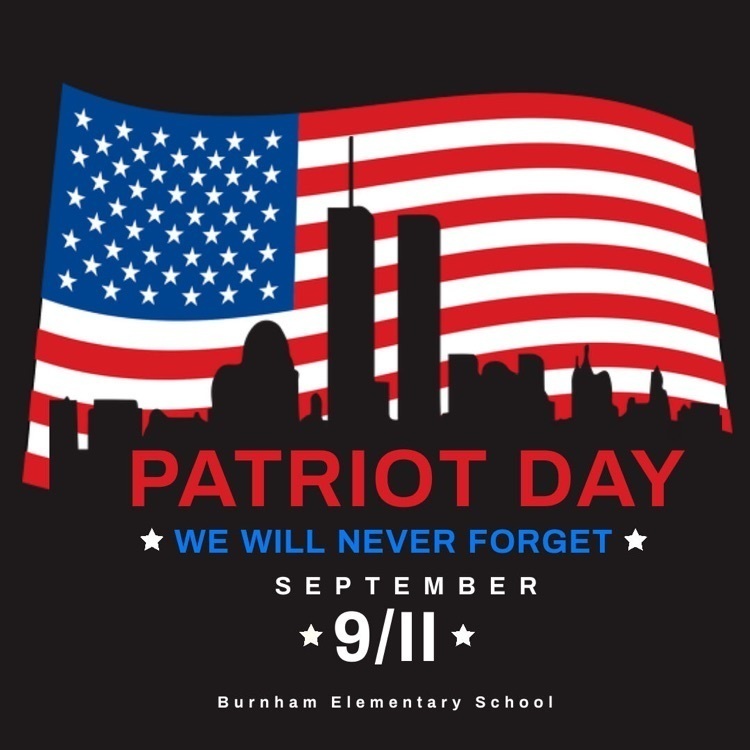 Mark your calendars for our annual Open House at Burnham School on Wednesday, September 13th. The event will run from 6:30-8:00 PM. Hope to see you there!!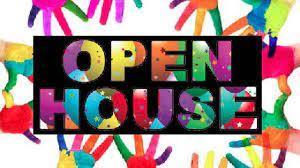 Just a reminder: Labor Day - No School on Monday, September 4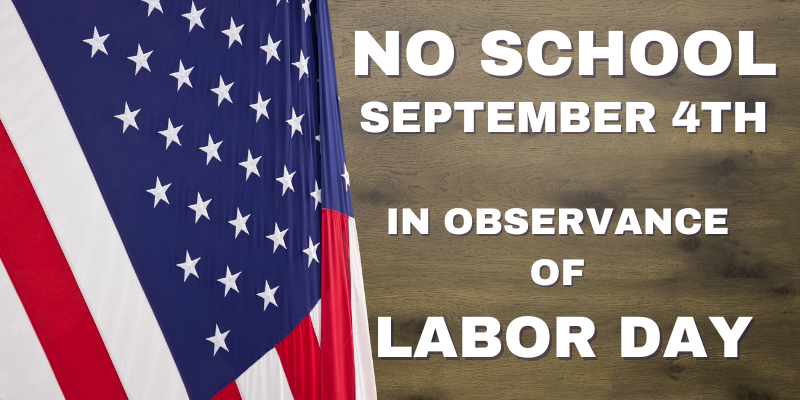 Evento Gratis! ¡Hola familias de Burnham! El Sábado 2 de Septiembre hay un evento gratis que está muy cerca de nosotros llamado México en el Corazón. Les invitamos a asistir a este evento familiar de 11 a.m. - 2 p.m. Habrá música, mariachi, baile, comida, disfraces, y más! Es para toda la familia! Hora: 11:00 a.m. - 2:00 p.m. Dirrección: Fox Pointe 18138 Henry St. Lansing IL 60438 Free Event!!!!!!! Hello Burnham families! On Saturday, September 2, there is a free event that is very close to us called México en el Corazón. We invite you to attend this family event from 11 a.m. - 2 p.m. There will be music, mariachi, dancing, food, costumes, and more! It is for the whole family! Time: 11:00 a.m. - 2:00 p.m. Address: Fox Pointe 18138 Henry St. Lansing IL 60438

First school assembly!! ⭐️S. T. A. R. S.⭐️ Students That Attend Regularly Succeed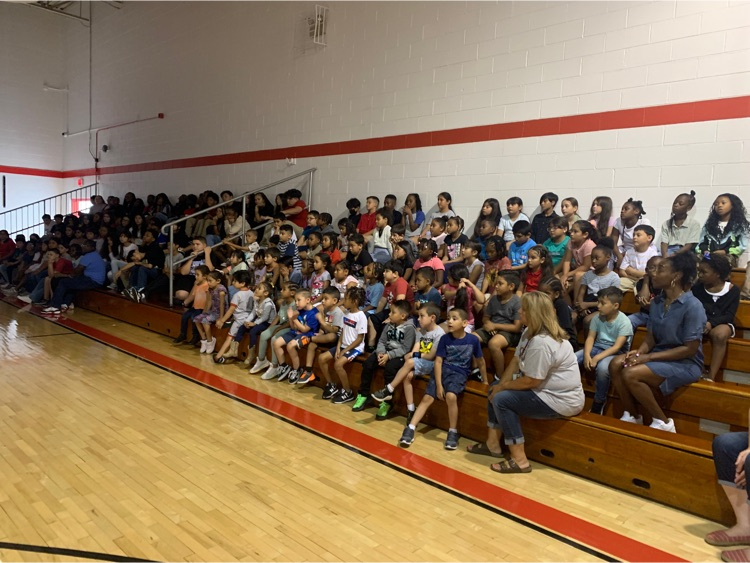 Thornton Township is offering an after school program. See the flyer for details.

Tutors needed!!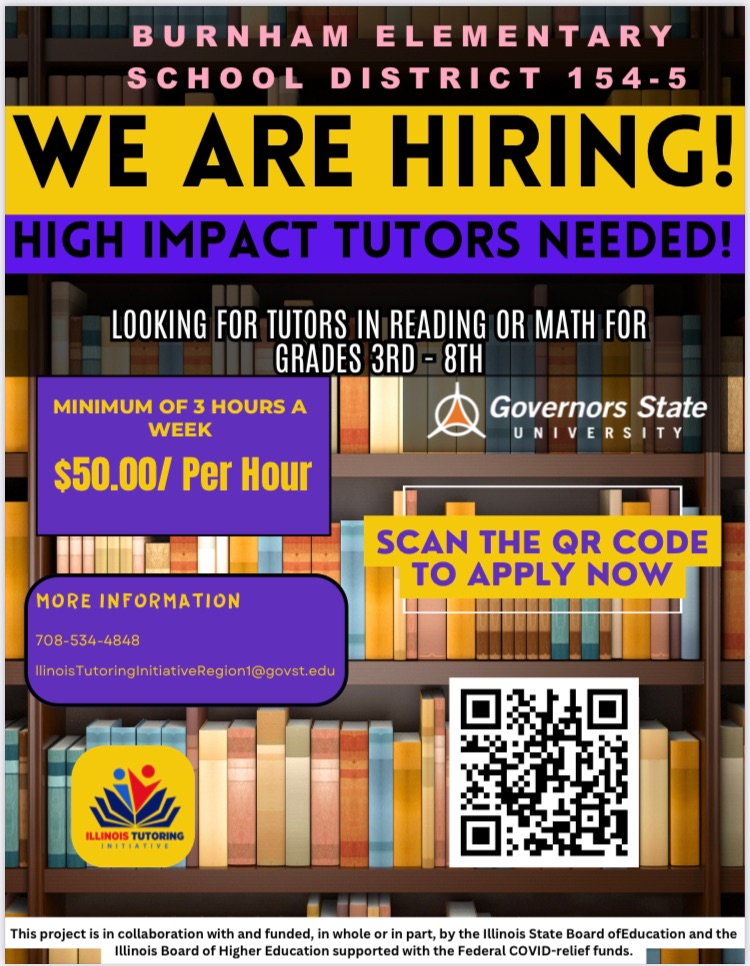 Get FREE school supplies & book bags at Thornton Township's Back To School Fest, hosted by Supervisor Tiffany A. Henyard, Saturday, Aug 5, 12-7pm. Enjoy food boxes, bouncy houses, water slides, petting zoos & more at Melanie Fitness Center, 14900 Greenwood Rd, Dolton. Bring a towel! Register:
https://www.eventbrite.com/e/688168088277?aff=oddtdtcreator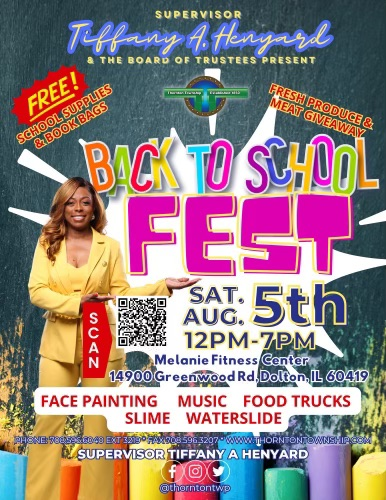 Burnham School Registration Continues Thursday & Friday 3-7 pm PROOF OF RESIDENCY NEEDED. (See website for details) School Fees KINDERGARTEN - 8TH GRADE Technology: $30.00/per student Polo Shirt: $10.00 Gym Uniform (6th – 8th Grade) Short: $10.00 Shirt: $10.00 ALL FEES MUST BE PAID IN CASH, MONEY ORDER OR CASHIER'S CHECK *NO PERSONAL CHECKS*

Just a reminder: Registration for 23/24 School Year August 1 - 9 am to 1 pm, August 2 - 9 am to 1 pm, August 3 - 3 pm to 7 pm, August 4 - 3 pm to 7 pm, Registration Requirements can be found here:
https://www.d1545.org/article/1170441

Today was our last day of Summer Boost! We are so proud of our students and their accomplishments. Itzel earned the highest amount of trophies for Math and the overall highest for both Math and Reading. Gionni earned the highest amout of trophies for Reading. Jordan earned 2nd place for the overall highest for both Reading and Math. Congratulations Comets!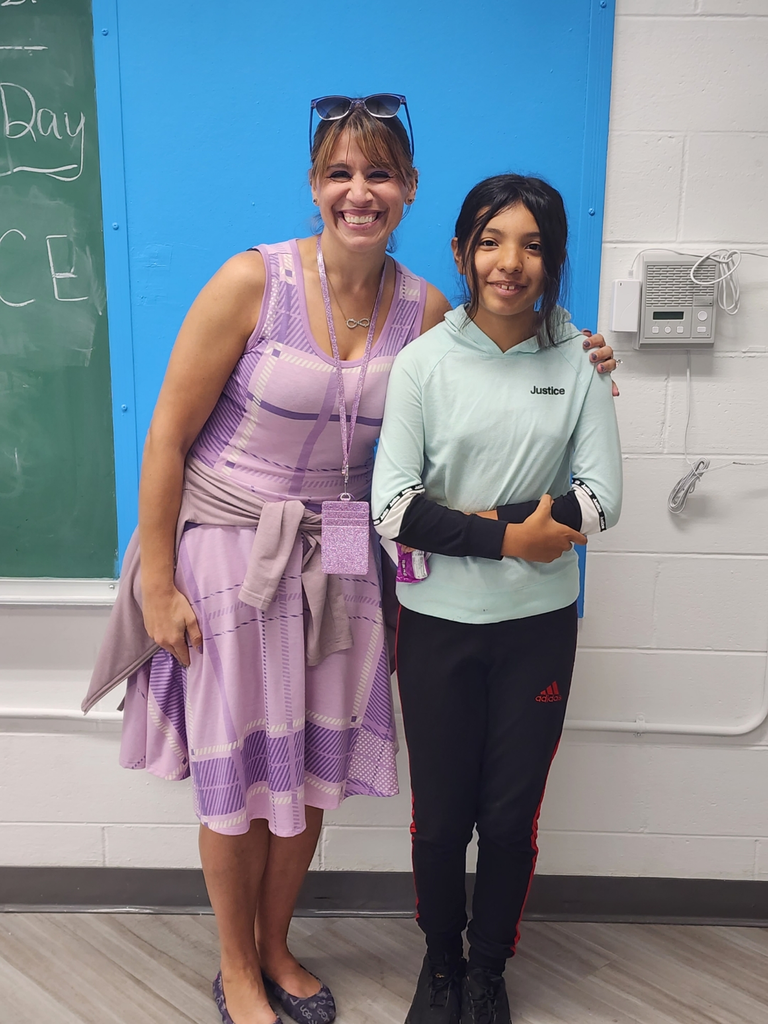 Purdue Northwest is hosting a backpack giveaway!